Make your event extra special with the flavors and hospitality of Germany.
When you plan your event with Beda's Biergarten, we'll work with you to create memories, not just another get-together. From start to finish, we are your partners in party development and we enjoy seeing your vision come to life as much as you do. Your guests will be talking about your party long after it's over.
Excellent food! They catered a last minute party for us and everyone went crazy for the food. I told them 30 people and I had at least 10 more unexpected guests and there was plenty of food for everyone. We were super happy and it was fun to serve food that people don't get all the time.
Sauerkraut was exactly like my grandma made!!! Sausages were perfect, we had a couple of vegetarian main dishes and freshly made pretzels. YUM!!!!
I had Beda's Biergarten cater an event for my husband's birthday and it was a huge hit.
Beda's Biergarten restaurant serves traditional German food that is made with care under the direction of owner Beda, and has wonderful authentic German beer, and they brought a good variety for my event. Friends loved the food so much they've been going back on their own and picking up carry out since the birthday dinner in August.
Friends who don't even like sauerkraut said their sauerkraut is amazing and it truly is.
The Fireman's department has a union Christmas party every year. Every year at a different location centrally located since we all live anywhere from Goleta to Paso. Last nights was at Beda's which I've been dying to get The Fireman into! We love German food. There's some familiar ties and is just comfort food for us.
We had the party in the patio. Beda, the owner is everybody's friend. He makes you feel so welcome. You're not at his restaurant you're at his home. He wants you to be truly happy. I know we are supposed to have it at a new location every year but I vote this be our spot!! It's pure comfort. We just fell in love with Beda. If I lived in SLO I'd be in there all the time. 5 stars isn't enough.
Many customers enjoy our authentic German food, from sausages and pretzels to stews, salads, vegetables, and unique meat dishes. We can also make any food to suit your tastes. Whether you envision a casual BBQ or a formal buffet-style dinner — from appetizers to desserts, brunch to coffee breaks — we'll design a special menu just for you. We can also provide delicious gluten-free and vegetarian options.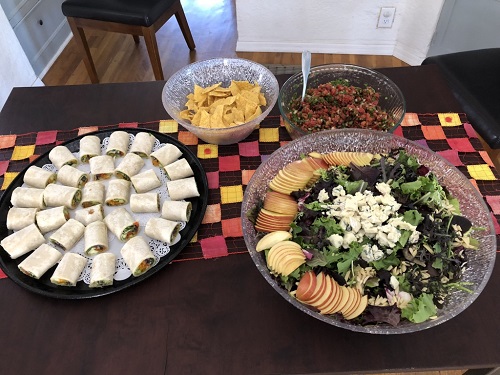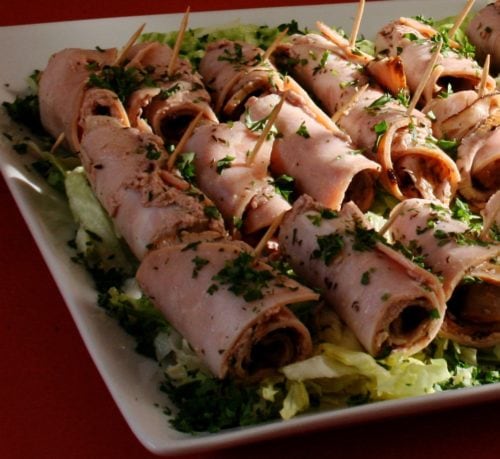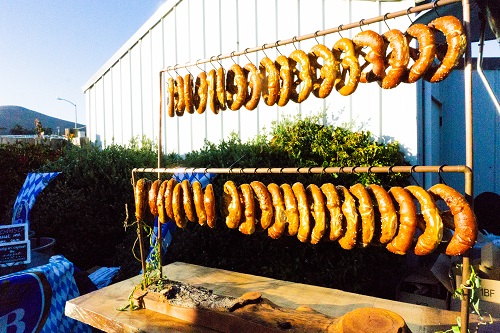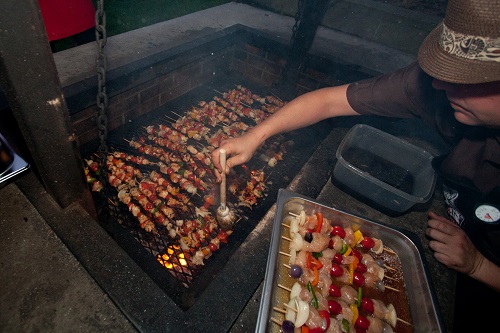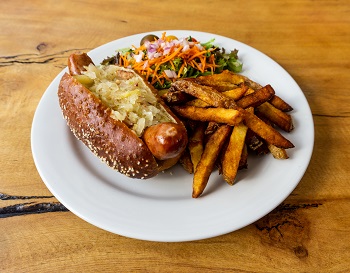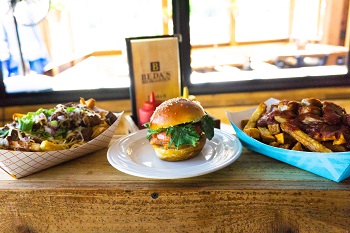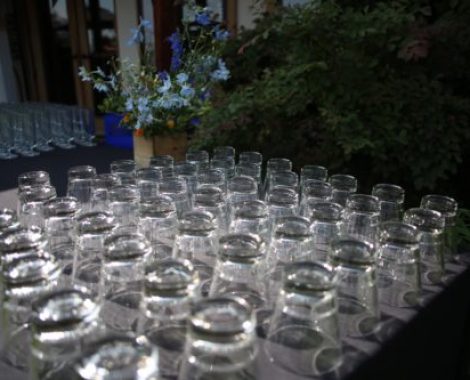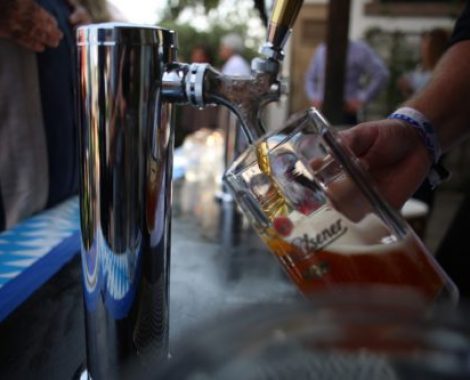 Our beer and wine catering license allows us to bring a full beer bar set-up with up to nine beers to your house or other location. We're also proud to provide the proper glassware that heightens the enjoyment of each bier. We carry several German biers, including König, Weihenstephan, and Weltenburger, as well as some great local Central Coast wines and hard cider.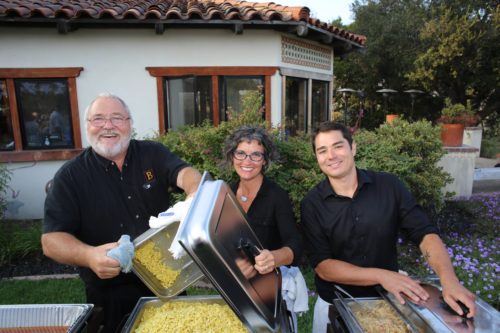 One word describes our service: gemütlichkeit — the feeling of warmth, friendliness, and welcome that is the foundation of German hospitality. 
We begin by listening to your vision, then work with you to create an event that matches your personal style, budget, and tastes.
We offer full-service set up and staffing to cater your event — from a small group to hundreds of guests. We can deliver food to your party, or host your private event at Beda's Biergarten. 
For every event, our team brings a gracious style and attention to the details, so you can sit back, relax, and enjoy your special event. 
We (Helga and Beda Schmidthues) are originally from the Lower Rhine and Ruhr Valley region of Germany, very near the Netherlands. In 1990, we started catering for friends' weddings and dinners, from casual to formal events. Our options ranged from American to international cuisine, like the American/Korean wedding we catered, complete with Korean BBQ and kimchi.  
In 2011, we started to return to our German roots and began cooking our family recipes for friends. Everyone loved the food, and that sparked the idea to open Beda's Biergarten in 2015.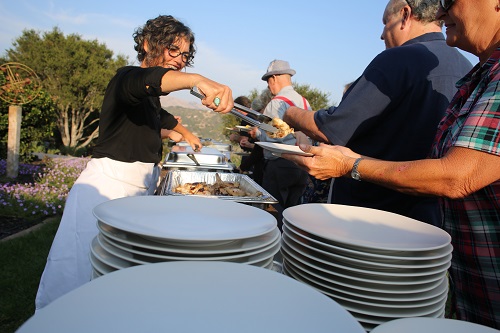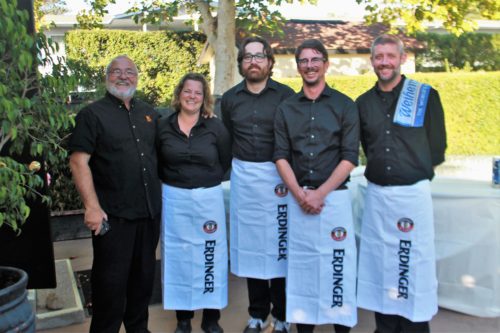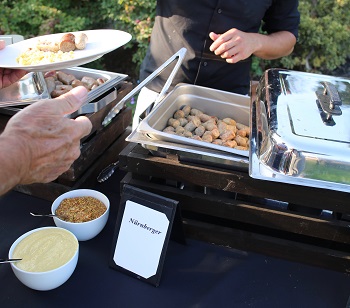 Since then, we've been catering weddings, company parties, and other external events, plus in-house parties at our restaurant. We also do many Oktoberfest-style public fairs and German-themed private events. 
Today, our family run business includes our daughter Julia, and our amazing Beda Team. 
Need some fun party ideas?​
Need some fun German food sayings?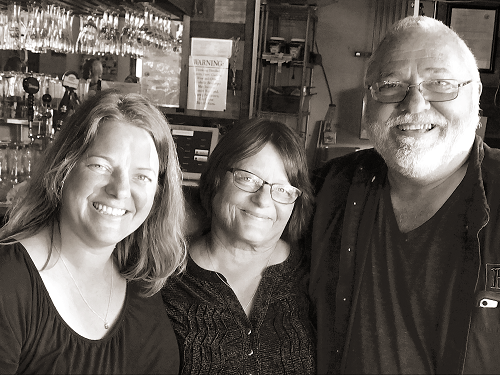 We are proud to share the highest quality, authentic German food from our family recipes, made with love and care just for you. In everything we do, we bring personal integrity and a commitment to quality service, combined with the belief that life is too short to not have fun along the way.
From all of us to you:
Thank you for entrusting us with your special event.
Prost! And Guten Appetit!