⚽ World Cup 2022 is coming to Beda's Biergarten, Nov. 20 to Dec. 18!
See the schedule below for the games we'll be showing — primarily the 8:00 am and 11:00 am games, Tuesdays through Sundays.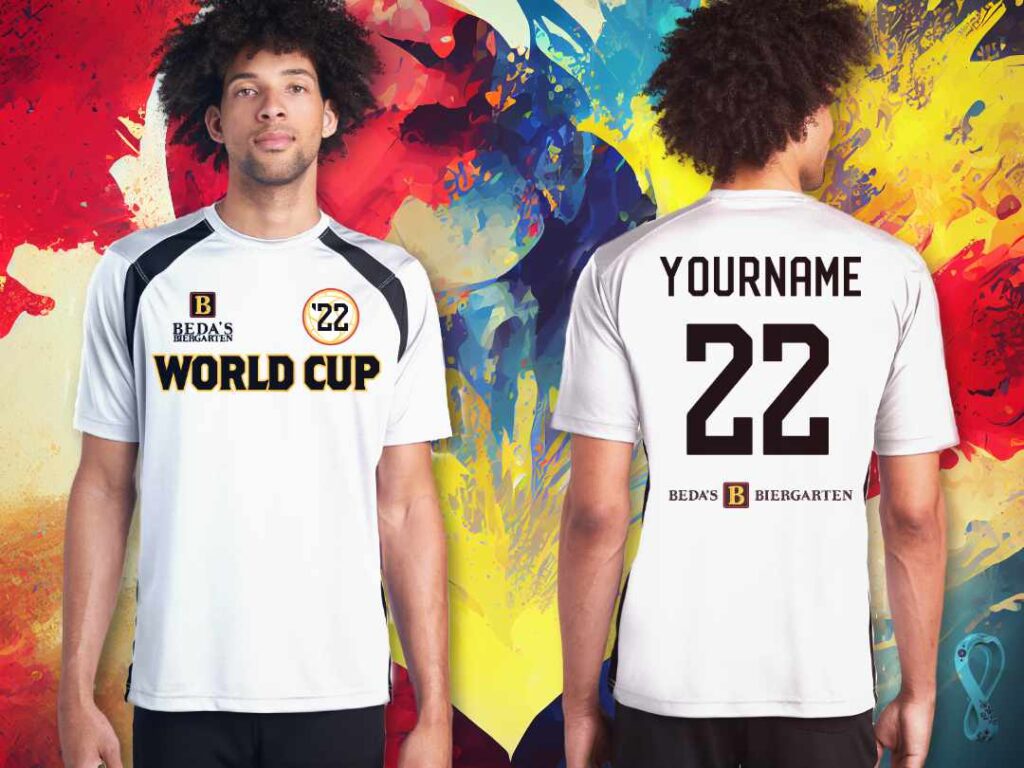 You know you want your very own custom Beda's team jersey!
Come into the restaurant to order yours. Just $75 (with $35 deposit). Order by Oct. 30 to have in time for World Cup. Last day to order is Nov. 16.
Date
Day
Time
Team
League / Group
12-9
SAT
1:00 PM
Columbus Crew vs LAFC
NO
MLS
12-12
TUE
12:00 PM
FC Copenhagen vs Galatasaray
NO
UCL
12-12
TUE
12:00 PM
Man United vs Bayern Munich
NO
UCL
12-13
WED
12:00 PM
Borussia Dortmund vs PSG
NO
UCL
12-13
WED
12:00 PM
Newcastle United vs AC Milan
NO
UCL
CALL OR COME IN AND REQUEST A MATCH
805-439-2729
⚽ Games in yellow require reservation
Join your fellow futbol fans and watch at the restaurant. We televise as many games as possible. Come pull up a chair and cheer on your favorite team while you enjoy our German food and beer.
See the Game Schedule and mark your calendars for the matches you don't want to miss.
Want to see a 5/6:00 am or Monday game? Call us and reserve your spot — or gather a group. If we get at least 15 people who commit to attending, we'll show these games.
We're conveniently located just a few minutes south of downtown San Luis Obispo on Broad St. & Orcutt Road. Free parking! We're easy to get to from anywhere on the Central Coast.
| Day | Times |
| --- | --- |
| Sunday | 11:30AM TO 8:30PM |
| Monday | CLOSED |
| Tuesday | 11:30AM TO 8:30PM |
| Wednesday | 11:30AM TO 8:30PM |
| Thursday | 11:30AM TO 8:30PM |
| Friday | 11:30AM TO 8:30PM |
| Saturday | 11:30AM TO 5PM 12/9 only |